A floriferous and bountiful window box can stop passers-by in their tracks, elevate the visual appeal of your home and say 'welcome' to visitors.
But creating one with longevity and interest can feel a bit daunting – I've certainly had moments of panic in the garden centre, desperately rearranging the contents of my trolley, checking labels for flowering times and worrying that my window box will end up an uninspiring mound of dated bedding plants, or else become a dead, crispy brown mess within weeks.
Luckily, I have experts galore to turn to, and with their help I'm mastering the art of an on-trend and well-crafted window box.
For pollinators, pick plants
"With the world as it is, window Plants should be included in boxes that are great for biodiversity, as well as looking good for months," says the queen of gardening, author and podcaster Sarah Raven.
She tells me that it is important to choose plants that pollinators like, that are edible for us, and that look good in the vase. "You'll be on to a triple winner – good for the planet, good for decorating the house inside and out, and good for the kitchen," she says.
Easier said than done when there are literally hundreds of plants to choose from, so here's an easy cheat courtesy of Sarah: "My current favourite combination for window boxes is to use pollinator-friendly, scented-leaf pelargoniums such as 'Prince of Orange' or 'Attar of Roses', which have the most delicious rosy fragrance. I use the leaves for cordials and the flowers are edible, and they last an incredible 3–4 weeks in a vase.
Love Lucy Illustrations
"Then add in sages like Salvia viridis 'Blue Monday', along with rosemary. Rosemary prostratus has fantastic cascading, evergreen foliage, and 'Tuscan Blue' has deep blue flowers in spring and summer and sometimes flowers again in autumn."
Sarah reassures me you don't need a mansion-sized windowsill for all this. "You can put them in one large window box or plant them in a succession of boxes on different sills. Just make sure they're on the sunny side of your house."
Accept the dark side
One trend I've definitely embraced is giving those overlooked, shadowy bits some green love. I've learned a lot from Susanna Grant, author of handbook Shade and founder of specialist shade-plant consultancy Linda.
"Shady sills are actually better for window boxes than sunny ones," she explains. "They are slower to dry out, easier to keep watered and can be filled with plants that look good all year. I've seen more ferny green window boxes popping up everywhere, and it really makes a difference to the front and inside of a house."
Susanna is an expert at seeing the beauty in shade and turning it into a place for lush planting. "My tip is to treat a window box like a miniature garden with an evergreen or two, a couple of perennials that flower at different times and some spring bulbs for when it's looking a bit bare."
I'm in love with the Window box at her house, so ask her what's in that. "It's on an east-facing sill," she says, "and has two contrasting ferns, Korean rock fern and Japanese shield fern, valerian and Scots lovage for height, muscari 'Valerie Finnis' and anemone blanda for colour, and a hellebore for early spring interest."
Make it edible
"The trend I'm seeing is that people are wising up to the fact that window boxes can be useful as well as beautiful," says kitchen gardener Anna Greenland, who has grown edibles for chefs including Jamie Oliver and Raymond Blanc have packed much of their wisdom on container gardeningHer book Grow Easy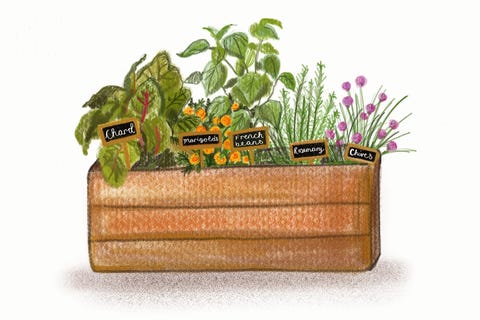 Love Lucy Illustrations
She agrees with Sarah Raven that there's a trend towards thinking about pollinators as well as ourselves: "Window boxes don't need to be just bedding plants. You and the pollinators will both benefit from filling your window boxes with colourful vegetables, herbs, or edible flowers.
Leafy greens like Chard, dwarf Kale and Salad leavesThey work well with dwarf runners, French beans and tumbling tomatoes. You can also add calendulaFrench marigolds Violas trailing nasturtiums for salads and allow herbs like basil, chives, parsley, rosemary, sage and thyme to flower and lure in beneficial insects and bees."
She's got just the recipe for anyone looking for a list to follow. In one sizeable 1m box, include the following: 2 calendula plants, 3 chard 'Flamingo' and/or rainbow chard, 2 dwarf runner bean 'Hestia' and 1 nasturtium 'Black Velvet'.
Matthew Biggs's Guide to Planting a Window Box
The pro gardener and Gardeners' Question Time regular shares his top tips for creating a window box with staying power
Get ready to launch your vessel
To ensure that your plants have enough room to grow roots, make sure you choose a window box that is at least twice the size of the space. To prevent compost from washing out, make sure that there are enough drainage holes. Then, place a crock (broken terracotta pot) on top of each hole. To improve drainage, raise the window box on pot feet and/or blocks of wood.
Water wisely
You can use peat-free multipurpose compost that is free of peat and has John Innes compost added for better water retention. To check if your window boxes need watering, insert your index finger into the compost. Then pull it out. If you find any bits of compost on your finger it is still moist enough. If not, water it thoroughly. A thorough, thorough soak every few hours is better than a sprinkle every day.
Feed and kill
After the plants are established and growing strong, you can switch to a high-potash fertilizer (such as tomato feed), for strong flowering. To encourage a second flush of flowers, remove dead flowerheads such as those from petunias and violas.
GH LIVE – Join our Good Our expert will answer your questions about horticulture at our Gardening Talk on Friday, 24 June panel including RHS Chelsea gold-medal winner Juliet Sargeant, regular BBC Radio 4 Gardeners' Question Time panellist Bunny Guinness, and gardening journalist Pattie Barron. More information about the event and tickets Here.